Happy New Year! Holiday Lights, Setting Intentions and Dates, Ad in Poets & Writers, Kitten Charlotte, Brother Visits and Kelly Davio's The Unreal Woman
Happy New Year! Holiday Lights, Setting Intentions, and More
Happy New Year everyone! Tonight we're celebrating with my brother and sister-in-law. This week we tried to get out and about a bit, despite the rain, and see the holiday lights at the Bellevue Botanical Garden. I received the "Inspiration" issue of Poets & Writers and it has my little book ad in it.
The kitten Charlotte is getting used to her new human and kitty companions, and even posed with my friend Kelly Davio's new book. I'll post that along with a mini-review later on in the post.
What are your New Year traditions? Do you make resolutions? Goals? Set intentions? Make a vision board with cut-outs? Do you think about the year past, things you've accomplished, things you missed out on? Do you think about what you're looking forward to in 2023? I can tell you I am already planning my book launch/50th birthday party in April, looking forward to seeing friends at AWP, and hopefully doing some virtual visits with friends and campuses in other states. I think it will be the most social year for me since the pandemic started, and that will be good for my mental health (we'll see about the physical.) I'm hopeful for a kinder, gentler year, a happier, friendlier populace, even though that might be a stretch.
Holiday Lights
One of my traditions – that had been thwarted by bomb cyclones, ice storms, record-breaking cold, snow storms, and heavy rain since Thanksgiving – is going to see the holiday lights around town. So we finally found a brief (and I mean, thirty minutes brief) break in the rain to go to the Bellevue Botanical Gardens to see their terrific Garden d'Lights display, which is all animal and plant figures, and takes volunteers months to set up. It was cold, and a little more crowded than is ideal, but it was still fun and made me feel like we got to enjoy the holidays during our break a little bit. Here are some shots of undersea creatures, a field of sunflowers with the city of Bellevue in the background, and a dragon.
New Literary Kittens and Kelly Davio's Unreal Woman
Kitten Charlotte is definitely starting to feel more comfortable with us; Sylvia is starting to feel (slightly) more comfortable with the new kitten. But she's already making her debut as a literary kitten!
Here she poses with Kelly Davio's new poetry book from Broken Sleep Press, The Book of the Unreal Woman. It's a sharp, funny portrait of disability and chronic illness, a rebuke to the ad logo of the "real woman," poems which feature an action hero facing surgeons instead of supervillains, praise songs to disinfectants. This book shimmers with energy, with anger, with the desire to keep living despite odds against her. Kitten Charlotte, our newest literary kitten review, loved it and quoted that it was "delicious." Get your copy! They ship direct to the US! 
Ad in Poets & Writer and a Small New Year's Eve Party
Very excited to have a small ad in the "Inspiration" issue of Poets & Writers – usually my favorite issue of the year, as I could always use more inspiration in gray January.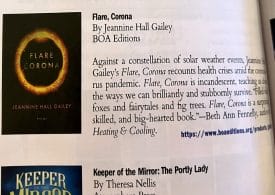 I also signed up to write a poem a day in January with some friends, which hopefully will be good for my creative brain. Tonight we have cherry upside down cake, salmon to grill, champagne, frozen grapes and balloons and New Year's crowns for our little celebration tonight with my little brother and his wife – since the pandemic, we haven't done much to celebrate New Year's, and I wanted to feel like it was really a holiday this year. (Along with the traditional watching of When Harry Met Sally.) We're ready to celebrate the end of another pretty hard year, and hopefully the beginning of a slightly easier one. What about you? A sigh of relief at this year's end?  Are you feeling anxious or anticipatory about 2023? Wishing all my readers a healthy, happy, and surprisingly delightful New Year!