Happy Poetry Month! My Review of Dana Levin's Newest Book Up at Poetry Northwest, My Reading Schedule for Flare, Corona, Spring Breaks Into Blossom, and Dental/Doctor Drama And Anxiety Before a Book Launch, and Reading Notes
Spring Breaks into Blossom and My Review of Dana Levin's Now Do You Know Where You Are Up at Poetry Northwest
Happy April and National Poetry Month! Despite the cold rain of most of this week, spring flowers are starting to appear around the city. I picked the first blooming daffodil from my garden this morning, and early cherry and plum trees are in bloom, despite hail and still colder-than-normal temps. I spent a lot of this week at doctor and dentist offices—too much, but I'm happy April is here.
I'm happy to share my review of Dana Levin's terrific Now Do You Know Where You Are, "A Guide to Disorientation," which is up at Poetry Northwest. Here's a bit from the review:
In a clear struggle with displacement in a new city, with a new president, and a sense of foreboding, Levin's speaker looks to various spiritual guides to inform and divine her life journey. This speaker, a slightly cynical spiritual messenger, makes a perfect companion for unsettling times."
I just started looking at my schedule for the next couple of months and had a bit of an anxiety attack. Besides the events listed, I'll be leading our book club on April 12, hosting my parents for their first visit since the pandemic (and all the associated cleaning and last-minute projects trying to get the house ready for visitors), and doing a virtual talk at a conference. And turning 50, hopefully with a few friends, some cupcakes, and generally celebratory spirit! It's the busiest I've been since the pandemic, for sure. I usually take a trip up to Skagit this month to see the tulip festival, the snow geese, and to celebrate the long-awaited arrival of spring amid acres of flowers, but I'm not even sure when I'll be able to squeeze that in this year.
Besides the anxiety, I am really looking forward to seeing a lot of friends I haven't seen in a long while. Please do come out and say hi! So here's the graphic the folks at BOA made me: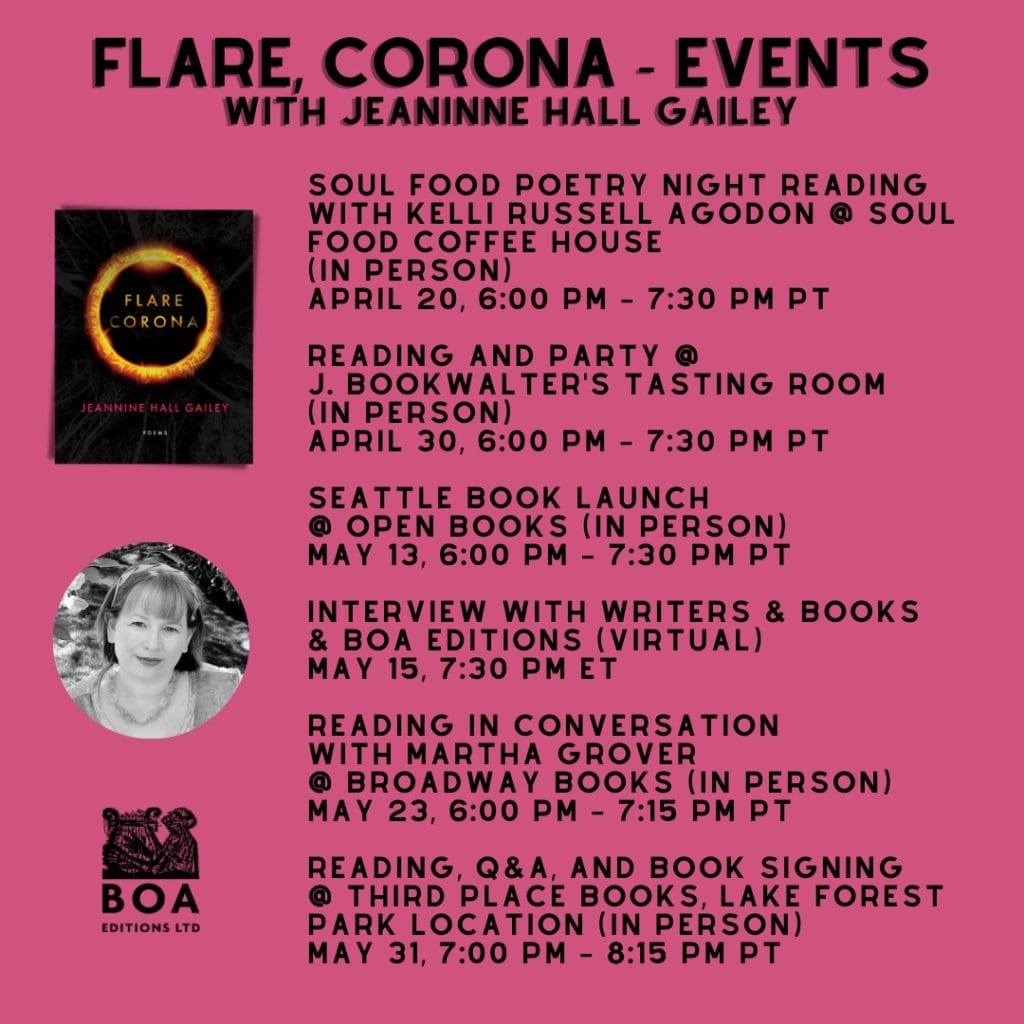 Dental/Doctor Drama and Anxiety Before a Book Launch
This week had its share of doctor and dental drama, including a dentist trip for a broken tooth that included a new crown, the removal of an old partial crown, and six fillings. It was a lot! In the doctoring department, three different specialists were working hard to help control purple hives that appeared (surprise!) all over my face and upper body for six days (more antihistamines? steroids? a biologic?). I also met with three (!) geneticists who are testing me for a rare life-limiting white matter disease (which doesn't seem like a high probability and has no cure but my neurologist wants to rule out), decided I probably have triple X syndrome which is more common than I knew (1 in 1000 women have it) but since there's no treatment for it as an adult—for children there is sometimes treatment for learning disabilities and behavioral disorders that can disrupt their schooling that can be associated with it—they won't do that test, and again that I probably had the hypermobility type of Ehlers Danlos syndrome (not a fatal type) so there isn't a good genetic test for it and again it might not change my medical treatment anyway. Nothing like spending hours answering questions about statistically how much of a mutant you really are to increase your disassociation with the self. Anyway, I think I should put a ban on any further doctor and dental work for the rest of the next two months, if possible, which sometimes is not possible (see mystery hives and broken tooth) just for my mental health. Do I want to deal with yet another diagnosis in the middle of a book launch? I do not.
Now, anxiety can make a lot of my symptoms worse, so I'm working to control my stress surrounding this book launch. Even though this is my sixth poetry book, this is my first book in a long time, the first book since the pandemic, and really the first book with a big virtual element—I can do bookstore visits (like the one where I'm in conversation with Peter Conners, BOA's editor and publisher, in a New York bookstore, in the graphic above as "interview with Writers & Books"—it's free and I recommend going, because how cool is it to actually get to see an author talking about their book with their publishers, right?) and classroom visits (please contact me if you want me to visit your college class or book club—I love doing stuff like that!) and where Instagram is more of a part of the bookworld (I'll be doing an Instagram takeover of BOA's feed in May, so wish me luck on that). I'm also doing the usual things—my first official Seattle reading is at Open Books, my favorite all-poetry bookstore, the first time reading at their new Pioneer Square location—and sending out book cards and an e-mail to alert friends and family to the new book (because you wouldn't believe the number of friends at AWP who came up to me and said You've got a new book?? with surprise).
The background to the usual poetry and health worries is worry about a cold war with China, an actual proxy war with Russia, and the anxieties of a person with a jacked immune system and re-entry into the world that is still wrestling with a pandemic (am I still testing for covid every time I run a fever? The answer is yes).
Book and Reading Notes
The good news is one of the ways I deal with anxiety is burying myself in books—currently, I'm reading Sabrina Orah Mark's fairy-tale essay book Happily, a strange meta-book about being an author in the midst of a Hollywood adaptation of her feminist mermaid book when mysterious murders start to occur called American Mermaid by Julia Langbein; Margaret Atwood's latest book of short stories Old Babes in the Woods; and I finished Katie Farris' raw, touching and funny poetry book about her breast cancer diagnosis and treatment during the pandemic that just launched this month, In the Forest of Being Alive. For National Poetry Month, our book club at J. Bookwalter's winery is discussing Rosebud Ben-Oni's If This is the Age We End Discovery, which wraps Rosebud's humor and intelligence around pop culture and particle physics—one of my favorite poetry books in a long time.