Happy Poetry Month! Tulip Festivals, Poetry Podcasts, a Poem in Diode, Snow Geese – and Illness (Plus Broken Teeth) – and The Importance of a Change in Scenery
Happy Poetry Month! Moody Weather, Illness, Snow Geese, And a Poem in Diode…
First of all, it's National Poetry Month, so it's about time I post a poem, right? Thanks to Diode for publishing my poem "Witchcraft" in their 15th Anniversary issue, which also has poems by friends Martha Silano and Alison Pelegrin, so check out the whole thing.
(Sneak Peek below of my poem – click to enlarge:)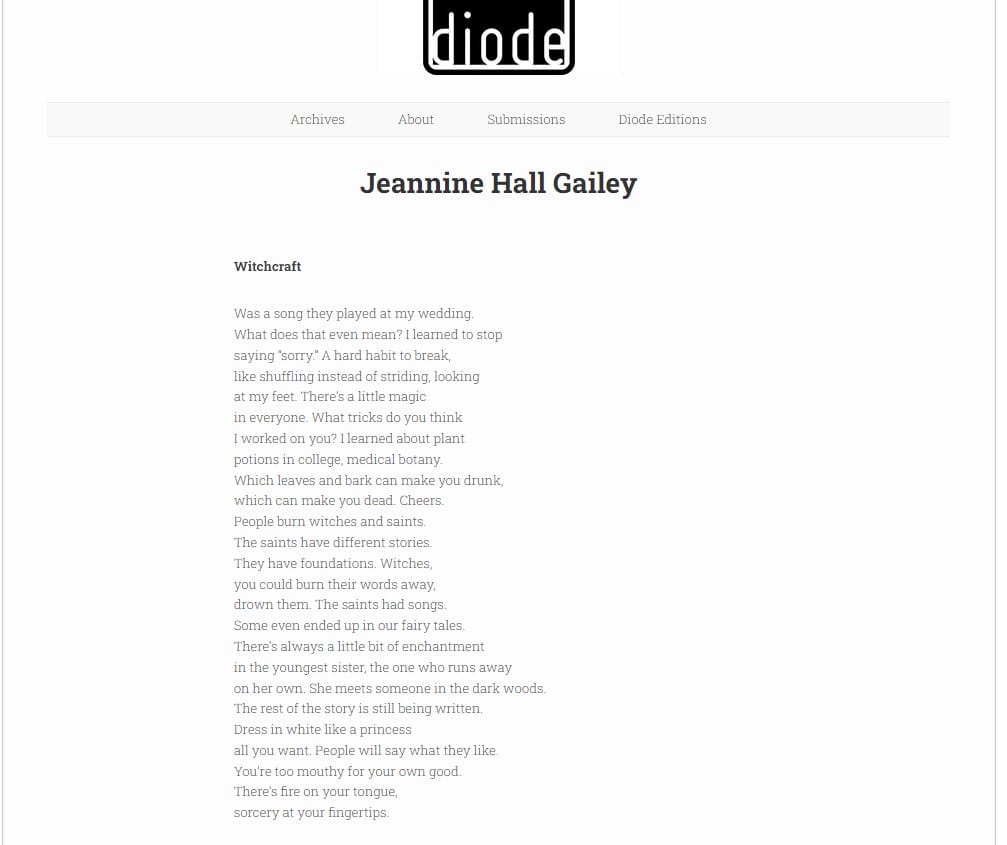 Second, I spent most of this week with the lovely combination of a head cold (not covid -we checked) and a pretty serious stomach infection, so I was mostly down for the count. We've had a colder, wetter April than usual here – I'm so ready for some sunshine and a little bit of above-forties temperatures. PS We got snow and hail today. High of 48. Normal average temperature this month? 70 degrees. Ha ha ha.
Third, though I was very worried my head cold would make my video podcast with Robert Brewer from Writer's Digest a little weird, but I took some cold medicine and I think it went okay. (Also, I blame cold medicine if I say anything weird.) The podcast will go up in late May, but here's a still from the podcast. Thanks to Robert and Writer's Digest! I'll post the link when it's live.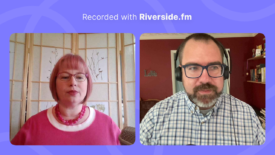 A Bit of a Depressing Week and a Change of Scenery
I've been depressed on top of being sick this week – had a head cold on top of a fairly intense stomach infection that required big time antibiotics. Maybe because of the cold, bleak weather, the unrelenting bad news of the world, maybe because I got a very sad rejection from the Guggenheim, maybe because I couldn't get out and see my friends' readings on the most beautiful day of the week because I was in bed sick, and maybe because I broke a tooth (again!) and the antibiotics they put me on have a side effect of "suicidal thoughts and depression." (True story! If you feel depressed, check your medications for side effects to see if that could be the reason.)
So Glenn decided to take me on a quick trip to see the Tulip Festival Saturday, even though it's mostly daffodils and not tulip fields yet. See picture at beginning of post. We also did not dress appropriately for the weather! At least I had on snow boots to protect against the mud (not pictured.)
It was weird weather – bright sunshine, then hail, then overcast, then snow, then rain, then clear again – but we did see some snow geese which have usually already migrated by now. A small miraculous thing.
Sometimes a change in scenery can help the spirit. It can't make me have a normal immune system, or keep my teeth from breaking, or stop wars or pandemics, or even keep it from snowing in April, but I have so many medical appointments coming up, it was nice to have some brief sunshine and cheer. (Even though there was hail and snow and a broken tooth.)
Allowing Yourself A Little Brightness in a Time of Storm/Stress/Mourning/Illness
Since I haven't been able to travel much for the whole of the pandemic due to being immune compromised – starting on our third year now – I doubly appreciate being able to drive without too much trouble to such beautiful scenery. I have to get this broken tooth checked out, I'm due for two separate MRIs, I have like eleven blood draws I need to schedule, and it's easy to let that kind of stuff take over your life when you're chronically ill and have MS and other multiple physical problems, plus aging. Literally the time and energy it takes to stay alive feels overwhelming.
How do we make space for brightness, for the possibility of joy, when we are worried about a war across the world, or about waiting for test results, or a root canal? How do we make space for poetry? I've been trying to write a poem a day this week, but haven't felt super inspired. So when I couldn't write, I tried to do a submission, or read some poetry instead.
When life keeps handing you problems, pain, rejection, and challenge, prayer/meditation/spending time in nature/purposefully changing your scene can seem stupid, like a waste of time, but these things can also remind us that life isn't all suffering and pain, give us a much-needed sense of perspective, wonder, gratitude. In my opinion, hospitals should have mandatory garden/kitten/meditation time for recovery, which seem almost as important as giving our bodies antibiotics to fight an infection – we need a little spiritual/emotional help to encourage healing too. A sensitive, empathetic mind that focuses not only on their own pain but everyone else's too needs to spend equal time around beauty, peace, happiness. The news does not report on this, but look – snow geese have recovered from almost extinction to the largest population on record, and even in the wind, hail, rain, and snow, there are moments when the world stops her sulk and storm and gives us sunshine and flowers.
Next week, I plan on a post with advice for the beginning writer – the last time I did one of those posts was some years ago – especially for National Poetry Month!