In an Apocalyptic Week, an Apocalypse Book Giveaway: Field Guide to the End of the World, and Margaret Atwood with Hummingbirds
In an Apocalyptic Week, and Apocalypse Book Giveaway: Field Guide to the End of the World
The whole West Coast is covered in smoke, with wildfires still raging in Washington State, Oregon, and California. Our air quality has been so bad I've been shut up in my bedroom with four air purifiers since Monday night, and the indoor air quality is still almost 100. Outdoor air quality yesterday was 400. It is impossible to breathe outside; even for healthy people, creosote particles (among others) can cause long-term lung damage. Cloth masks don't work, either, only n95 or P100 masks, the news continues to tell us – though I have no idea where people are getting those, they haven't been available to normal people since February. So, we're basically screwed until it rains – which won't be til Monday or Tuesday, and even then we're not guaranteed clean air. (Can't you drive somewhere with clean air? my mother asked. No, there is nowhere within driving distance for us that it gets better in any direction. Some places usually spared fires and air problems – like Port Townsend and the Oregon Coast – are actually getting it worse than us. Our only hope is rain, fewer fires, and a change in wind direction.) We also had record-breaking heat this week (92 degrees!) so anyone claiming there's no such thing as climate change isn't paying attention. This is also record-breaking in terms of the terrible quality of the air, one wildlife biologist said on the news – worse that previous wildfire years. 2020 just keeps bringing the hits, doesn't it?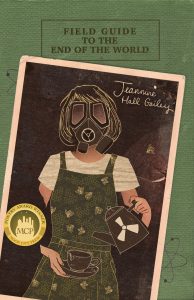 So, I also discovered that Field Guide to the End of the World is listed as unavailable on Amazon right now due to distribution problems, so I'm doing a giveaway (and of course, if you want to buy a signed copy, just ask! I have a little stack still!) I do want people to read my book, after all.
All you need to do is leave a comment with your e-mail address on this post, and you'll be entered. It's a great book for apocalypse reading, I promise. Plagues and wildfires appear in the poems regularly. It's topical! So, the winner will be picked next Sunday, the 20th. Winner will be picked by a random number generator from all the commenters. Shipping to the US only.
If you have any problems leaving a comment or ordering a copy of the book, e-mail me at jeannine dot gailey at live dot com.
And speaking of apocalyptical writers, I got a chance to spend some time with Margaret Atwood this week (virtually, of course) thanks to Seattle Arts and Lectures….
Margaret Atwood Talks Apocalypses, and Reasons for Hope
One nice distraction from the fires all around us was Tuesday night's SAL presentation, Margaret Atwood interviewed by Cheryl Strayed. They even took a question from me! (By the way, my recommended reading from Atwood for the week is Wilderness Tips.) Margaret talked a lot about World War II and its influences on her writing and the echoes of it right now in our current society.
Cheryl Strayed asked Margaret, who admitted to tending to the dark side, if there was any reason for optimism. "The future is not written yet," she replied. A good (and sobering) reminder.
And here are two hummingbird pictures from this week. Hummingbirds continue to appear and drink from the feeder, and from the flowers. We run the sprinkler periodically for the birds and my garden; apparently the spray helps them stay cleaner from the smoke (or so I was told.) I have added houseplants to my room of solitude to help make up for the fact that I can't go outside – an orchid, a snake plant, an aloe, a couple of ferns – all plants that coincidentally are supposed to help air quality. One thing about things you are able to control – I can't stop over 600,000 acres burning, but I can plant a tree in my yard (when this is over and it's safe outside, naturally.) I can't leave the "clean room" in my house (without suffering more than the nosebleeds, headaches, and cough I'm currently having) but I can try to connect with others online, and think about how to improve the quality of the air in the house (air purifiers, plants, dusting, getting rid and loose papers, avoiding burning anything (food, candles, etc.) I've been writing poems, too, when I can, though I'm not sleeping well with all the smoke so they may be mildly incoherent. I'm really hoping a publisher sends me some good news soon about one of my manuscripts. It would be nice to have some good news to share in this year of bad news, wouldn't it?