Measuring Up and Marching Towards Spring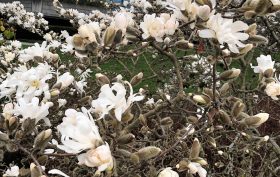 I've probably mentioned I've been reading Sylvia Plath's newest collection of letters for a while now. I'm finally getting to the end of Volume I, which ends when Sylvia's about 24 (on page 1300). By 24, Sylvia had already been a Fullbright scholar, had poems accepted by Poetry, The Atlantic, The Nation, had an internship at Mademoiselle and sold several short stories. Looking at her, I look at myself at 44 and think: how do I measure up? I mean, she didn't publish many books while she was alive, and I have five, but I've had fourteen extra years on her already! I didn't publish my first book until after age 30!  I still haven't had acceptances at any of those magazines (and Mademoiselle is defunct.)
Now Sylvia Plath, along with a few other poets, remains one of the best poets of the past hundred years. You can watch her poetry get better in her letters over the years, from 15 to 21 to 24. Dating Ted Hughes, whatever kind of decision that was for her life-wise, was great for her poetry – she suddenly starts putting a lot of nature in her poems when she starts dating him, specific names of plants and animals, adopts the fierceness of the natural world as her own. (By the way, even before Ted, her preferences for boyfriends ran to the "handsome, healthy, big, brutish" variety – why the emphasis on "health" and what did she mean by that? Weird. So I don't think she was going to ever end up with a nice guy type. She was also kind of a "mean girl." Way meaner than me.
Who do I admire among today's poets? It's hard for me to say who the strongest/best poets are. I know which writers I admire and look up to, to aspire to be, so to speak (even though some of them might be younger than I am:) Louise Gluck, Dana Levin, Matthea Harvey, Kelly Link, Tracy K. Smith, Margaret Atwood. Beth Ann Fennelly, Brigit Pegeen Kelly, Lucille Clifton (though the last two have sadly passed away now, they remain in my bag of poetry heroines.) Will I ever be as good as any of them? It feels like I don't measure up. I need to work harder to shape my work to be the best it can be. That never really stops, years after my MA and years after my MFA, that desire to keep getting better, to keep tweaking.
Today is the first day of spring, which feels like it should be an upbeat poetry day.  I'm working on a couple of AWP panel ideas, and was just invited to be part of one. But I received a rejection for my latest book/collection in my e-mail box, and with the Sylvia stuff, just feeling a little discouraged. Plus, I have to get cancer tested again for my liver (MRI and blood work) – they do it every six months – and on top of the constant MS appointments, it's a lot. Along with dental work, something I wish I could put off indefinitely! Thank goodness I'm finished up with Sylvia's letters, and now I'm moving on to the latest essay collection by Zadie Smith!
But  I will post some pictures of local blooms! Spring seems to be a bit odd this year, with storms coming to the east coast and a forecast of snow (!!) here on Saturday. Our spring blossoms have arrived several weeks late this year, so my daffodils haven't yet bloomed, our hyacinths and cherry blossoms just now peeking out. And some local peacocks!