New Poem in Star*Line, Supermoon Eclipses, A Little Seattle Color, and Surviving January by Reading Writers' Words on Writing
Down Time: Reading Writers' Words About Writing
Good morning! At left you can see what I've been doing with my time – mostly sick in bed, surrounded by books and cats. Last night I finished Ursula Le Guin's Words Are My Matter, from Small Beer Press. My favorite bits from the writing of her last decade were an essay called "Disappearing Grandmothers," a diary of her time at our local Writer's Retreat Hedgebook on Whidbey Island, "Learning to Write Science Fiction from Virginia Woolf" (whose letters I have been reading,) and some of her reviews, including Philip K. Dick. Quick quote from "Disappearing Grandmothers:"
"We really can't go on letting good writers be disappeared and buried because they weren't men, while writers who should be left to rot in peace are endlessly resurrected, the zombies of criticism and curriculum, because they weren't women."
I get the feeling I would really have gotten along with Ursula. And her commentary on Virginia Woolf made me realize why I'd been picking up her writings again – she really did have a way of approaching old subject matter in a singular way. I'm learning a lot from reading non-living writers, and coincidentally, a friend just sent me a collection by Mary Oliver, who recently passed away. Of course, we should appreciate and cheer our living writers, both friends and heroes, too! But it does feel fascinating to be reading letters from Sylvia Plath, Emily Dickinson, Virginia Woolf, and essays by Ursula Le Guin – like the most terrific conversation with women writers across time.
A New Poem in Star*Line
Thanks to Star*Line (this issue was edited by Vince Gotera) for publishing my poem "Self-Portrait as Pretty Monster." If you join the SFPA you get a subscription to Star*Line for free. Here's a sneak peek: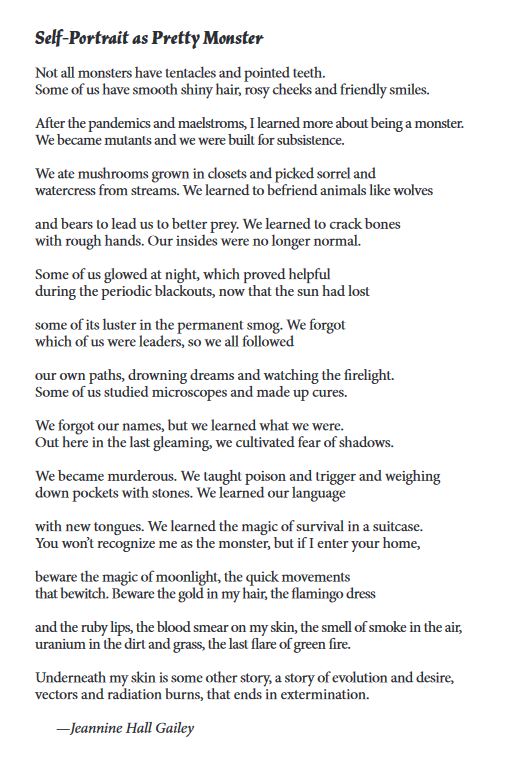 A Little Seattle Color and January Wildlife
Lest you think from my ramblings that in Seattle our January is always a dull grey and the rain never ceases, a rare sunny day when I was able to get out and do a little nature photography (and pose with an antique red truck – what a cheerful color!) Hummingbirds are regular visitors thanks to our feeders and deer love to eat the new grass that grows this time of year. In our neighborhood, you can usually find an array on antique cars or car shows on any sunny day. And I love all kinds of flowers, but this time of year, coral roses seem especially vibrant and cheering. Glenn's been making a new quick-jam that I got out of a magazine called cranberry-pear butter (we make it in the instant pot, not a slow cooker, much faster) and not only is it beautiful, it's delicious (the ginger really makes it pop and feel winter-appropriate!) Great on greek yogurt, a scone or a slice of pear-cranberry-ginger cake.
Supermoon Eclipse of 2019
Tomorrow night is the only full lunar eclipse of 2019 – and usually the night sky here is very cloudy – or it's raining – this time of year. I hope you are able to watch it (around 6:30 Pacific, 9:30 Eastern) but I always feel a tinge of foreboding around supermoons in general and supermoon eclipses in particular. The red color of a lunar eclipse is so eerie. I do not consider myself superstitious and particularly astrologically-wise but moon cycles really get to me, and I think they affect something not just in the earth (tides, etc) but something in the human body. I wrote a poem about how eclipses are supposed to take away the veil between dimensions and worlds, between the subconscious and conscious. Lunacy and all that. Perhaps this year the supermoon will bring us good changes this year, which I think we could use with all the lunacy in the world right now. Here's wishing good health and new poems to you and to me!