New Poem Up at Gingerbread House, A Reading List for Chernobyl fans, and a Little Nature-Loving Photography
New Poem "The Year I Became a Witch" up at Gingerbread House!
Thank you to Gingerbread House literary magazine for publishing my new poem "The Year I Became a Witch" – complete with wonderful art work – in their new issue! This is from a series of poems my new newest book manuscripts, having to do with nature of women and witches. Check out the whole issue, which is magical. I am in very good company. Here's a sneak preview but go check out the real thing at the link: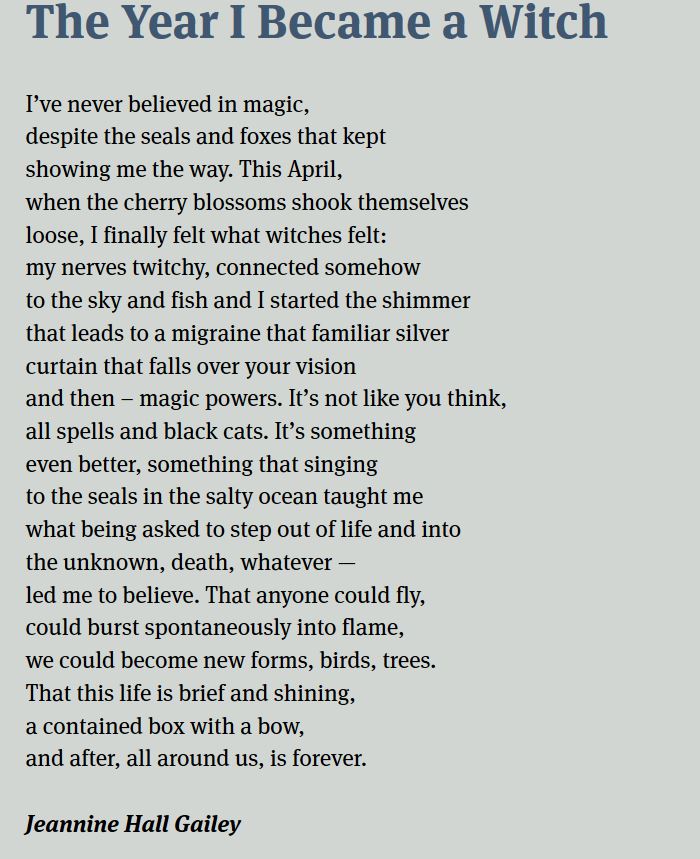 A Reading List for Chernobyl Fans
So, if you're not already hooked on the fantastic HBO series Chernobyl, it is gripping, well-written, well-produced, and not only all that, a real-life horror story that happened when I was 11. I have always been interested in the disaster, because of my life-long interest in nuclear contamination and disaster (growing up in one of America's Secret Cities will do that to you.) But if you are looking for good poetry reading to accompany your binge-watch, let me recommend a couple of books. One is Lee Ann Roripaugh's terrific new book from Milkweed Press, Tsunami vs the Fukushima 50, another is Kathleen Flenniken's Plume (about her childhood and work as an engineer in Hanford, and the Green Run), and the third is my own The Robot Scientist's Daughter, about growing up in Oak Ridge, and some of the repercussions of that.  Do you have some more poetry books about nuclear history, anxiety and disaster? Please leave your recommendations in the comments!
A Little Nature is Good for the Soul
I've finally had some relief from pain in the last week, enough to get out and about in my garden and some of the surrounding gardens in Woodinville, getting back to my usual routines, taking pictures and celebrating our beautiful late spring.
There have been some local tragedies in the news that were bothering me – a shooting of a woman and several children on a public Seattle beach on Memorial Day, and then the bizarre incident where the Bainbridge Ferry – one I have ridden many times – hit a juvenile humpback whale. A tornado caused a ton of destruction in Dayton, Ohio, near my family in Cincinnati. There's been disturbing national news, politically, of course, as well. One thing that I try to remember and hold in myself when I get overwhelmed with the bad things, with the depressing or anxiety-provoking, is to spend time with the small things of nature. Like a hummingbird, a new flower, new goslings. I also finished up two book reviews I'd been working on for a while, which ends my reviewing for the summer. (I take time off in the summer, because the last couple of summers have involved a lot of hospital trips for me.) Reviewing two excellent books really makes me feel like I can shine some light in a positive direction in a poetry world that can feel unremittingly dark sometimes.  I'll post the reviews when they go up.
I hope that you will feel some renewal this late spring, as we move towards the solstice, that you will feel some hope in the faces of flowers and the baby animals. Yesterday was World MS Awareness Day. I continue to struggle with my MS symptoms, especially because MS is a constantly moving target – a symptom I've never had before will wreck me for a while, and then I'll just be left with plain old fatigue and clumsiness. But I try not to lose hope, in a cure, in better treatments, in a life ahead that's filled with springs when I'm well enough to follow ducklings and butterflies.