New Poems up in Waxwing and Nine Mile, New Reviews in Guest 5, and Realizing Your Core Competencies
Mid-October Updates: Poems, Reviews, and Realizing Your Core Competencies
Sunrise is happening later and later and fall seems to be moving ahead – this week is supposed to be nothing but rain and wind, and last week we had our first night frost which single-handedly wiped out all the remaining flowers—dahlias and roses and sunflowers shriveled overnight. It's now too cold to go out without pre-thinking a jacket or boots. I've had to dig out my winter coat. A coat!
 New Poems in Waxwing
I am so happy to tell you I have two poems in the new Fall 2019 issue of Waxwing, which also includes wonderful poems by C. Dale Young and Oliver de la Paz. Thank you to Waxwing! Here are links to my poems, "American Origins" and "It Was No Longer Summer." 
And here is a sneak peek of "It Was No Longer Summer:"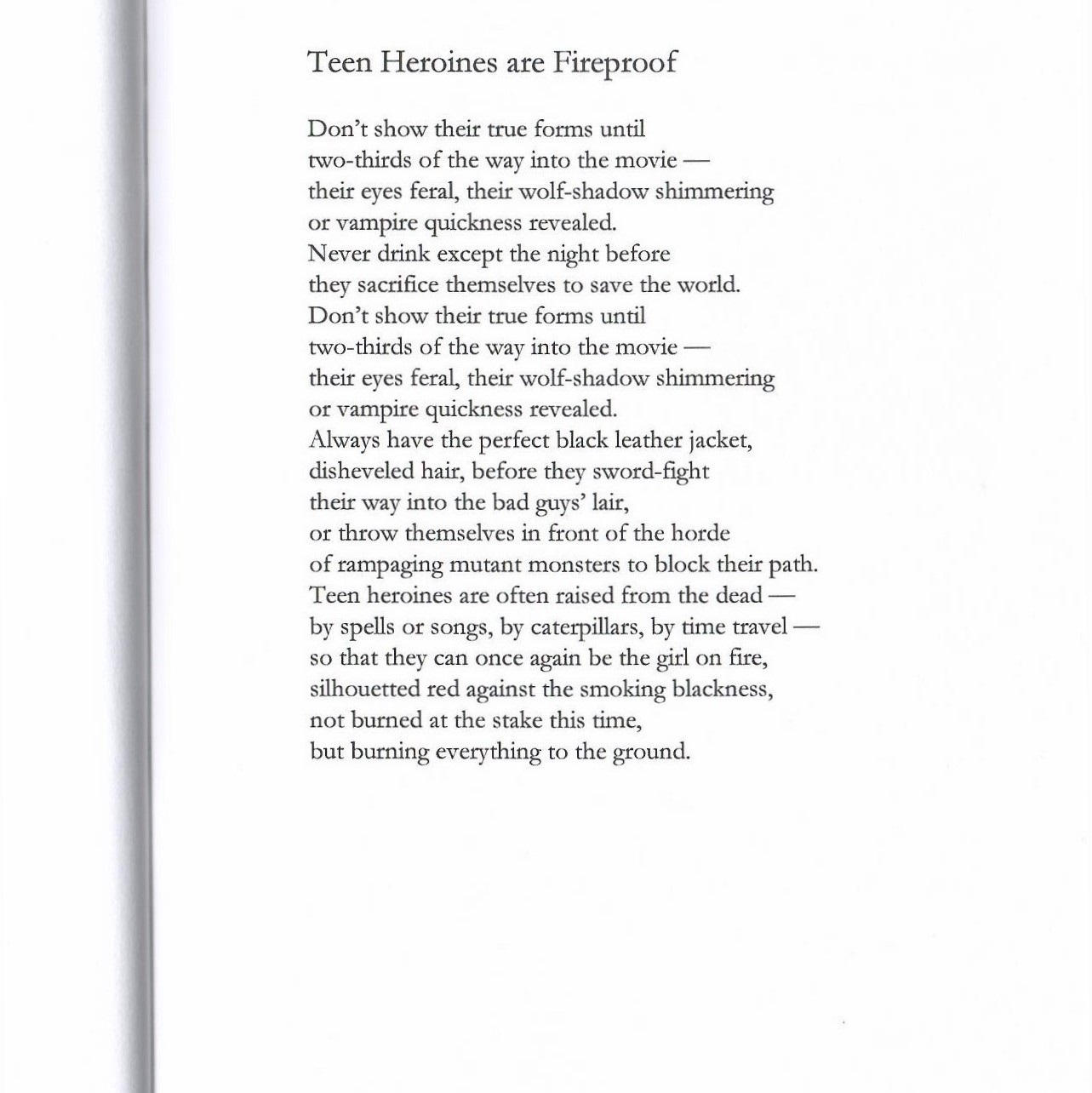 Poems in Nine Mile
Happy also to be included in this double issue of the "Deaf, Disabled, and Neurodivergent" anthology from Nine Mile Literary Magazine.
As Sylvia shows here, it's a wonderful issue with six poems from me, including a couple about multiple sclerosis, and this one, "Teen Heroines are Fireproof."
Two Microreviews in Guest 6
And two microreviews of YesYes Books' Ugly Music by Diannely Antigua and CavanKerry Press's Body at A Loss by Cati Porter appeared in Sarah Mangold's guest edited issue of Guest (and, opposite page, Rae Armantrout!)
Here's a sneak peek at the reviews here.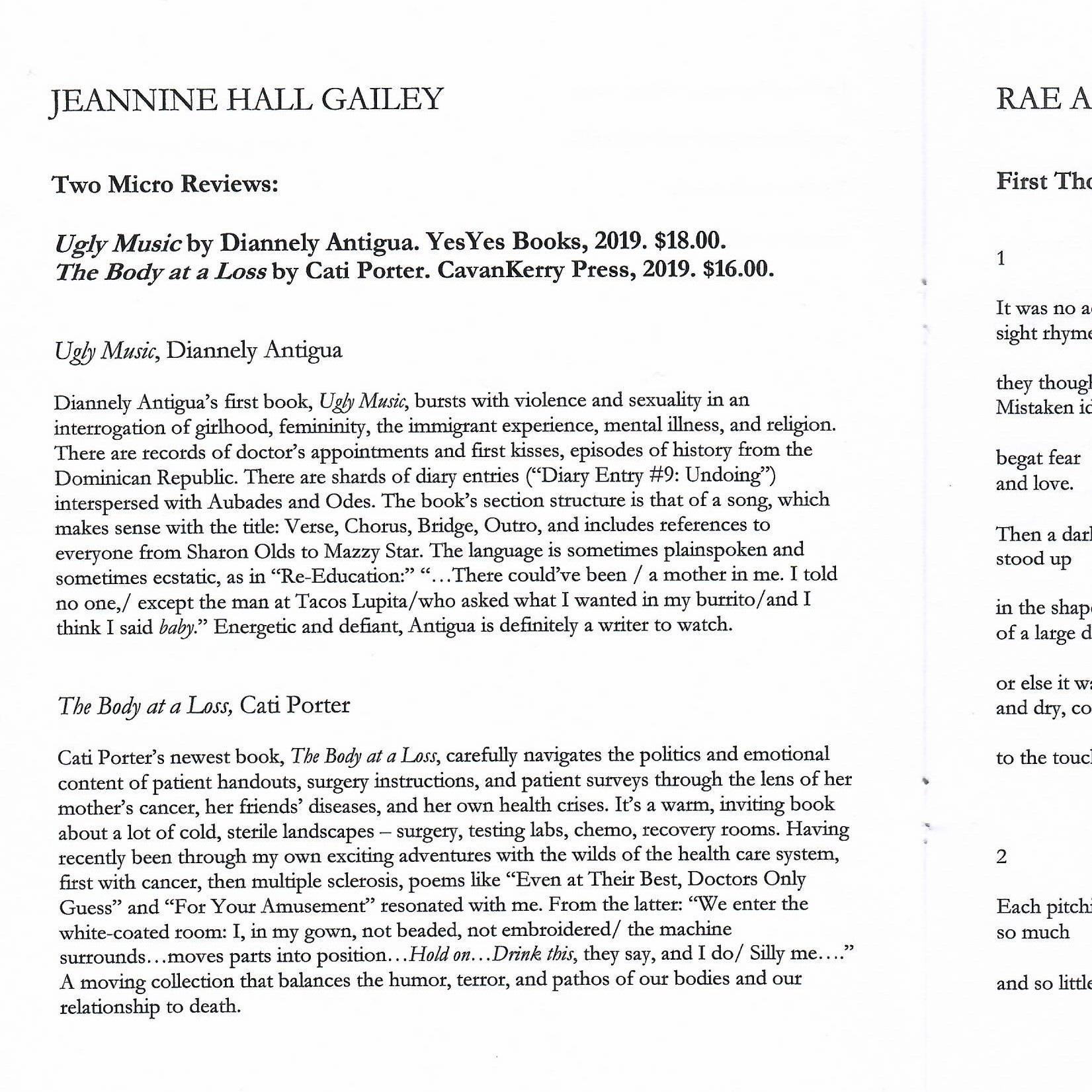 Realizing your Core Competencies
The other night I wrote a horror poem about a town that killed all its children and I was like "Wow, that's dark" and then someone posted a quote from one of my other poems that was so dark I didn't recognize it immediately and I was like, "Wow, dark." So I guess we have to realize our own core competencies, to use the language of the corporate world. I could try to write uplifting poems about flowers and it would probably still have some pop culture or horror aspect to it – it's just part of who I am.
I've been trying to heal up from getting sick so I can get some dental work done (horror story on its own) and trying to do uplifting things that boost my immune system, but of course some of that involves listening to Nick Drake (depressing) and watching scary movies on cable late at night. One of my big coping mechanisms to life is humor, but I find humor in horror movies and MST3K Westerns and pointing out tropes that were stolen from Westworld. (My husband didn't even know there was an original Westworld movie in the seventies! Scandal!)  One of my coping mechanisms is coloring my hair (I put in a purple streak this week for Halloween – a great thing to do if you have enforced rest!)
Maybe we have to look at the things that make us happy and do those things instead of things other people think make us happy. Does that make sense? I enjoy sipping apple cider and taking pictures of pumpkins and leaves but I also enjoy reading Japanese ghost stories or gothic tales in translation. I hope that I get healthy enough to take care of my tooth troubles but also to do a little more socializing, especially with other writers, because this time of year draws writers together in a unique way. I'm ready to see my friends, to hear some poetry in the air, to laugh. If you're a hummingbird with a purple streak, don't be afraid to stand out.