New Review of PR for Poets, Mermaid, Faerie Magazine, and Me, and the Latest in Poetry Life, Early Summer Edition
Early Summer in Seattle
A little peek at the change of seasons – here, sunflowers are blooming and they've attracted goldfinches! Another sign of summer? Butterflies and…we went to an outdoor concert (I haven't been healthy enough to go to a concert for over a year and a half!) at beautiful Marymoor Park – KT Tunstall, Better Than Ezra, and The Barenaked Ladies – where the first two acts were really fun, and I caught a guitar pick from the lead singer of Better Than Ezra, but then – it started raining a few drops, then boom! We were evacuated because of lightning! If you've ever seen a large park full of concert goers emergency evacuate, it's a mess – and I was holding a metal cane and a metal umbrella – talk about lightning rods! I also got to attend the prenuptial reading at Elliot Bay for Kaveh Akbar and Paige Taylor, who invited a ton of friends to read with them at Elliot Bay – it was like a baby AWP! Much less lightning. Poetry folks everywhere and standing room only. What a fun way to celebrate the beginning of a marriage.
New Review of PR for Poets at the Soapy Violinist
Thanks to Toni Colleen of The Soapy Violinist for this new review of PR for Poets! This is part of the Poetic Book Tour blog tour this summer for PR for Poets! I really appreciate these reviews – it's such a weird little niche book that I was worried we wouldn't have any! But I'm happy to see them adding up.
Mermaids, Faerie, Sylvia and Me!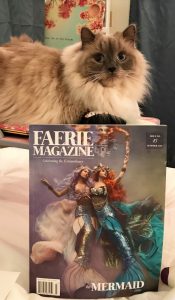 I know I posted a little bit about this on the last post, but I finally got my contributor copy of Faerie Magazine's Mermaid issue yesterday, and it is beautiful! I have three illustrated poems in it (including one about mermaids) and the whole issue is just really fun to read – from mermaid makeup to learning a bit of mermaid folklore. I got a picture of little Sylvia – sadly, not in a cat mermaid costume though – with the Mermaid issue!
The Poetry Life, Early Summer Edition
Ah, summertime is almost here – the weather (despite storms) is getting warmer, the days are getting long, summer reading periods are open…I just got two more rejections today, one from a grant/fellowship I was really hoping to get, but I have such bad luck with grants, I am thinking about never applying again! I just don't have the gene for grant applications – ugh, I hate them so much I would rather fill out dental forms. Or taxes.
I'm really hoping to hear positive news from a certain publisher that's been holding my latest poetry manuscript for, ahem, a year and five months at this point! If not, I'm ready to revise and send it out some more. I'm feeling that the book is "ready…"
I also got my numbers (yay!) from Moon City Press for Field Guide to the End of the World.  The numbers were good enough that I'm getting a royalty check (double yay!) and I think, well, for a time period in which I got diagnosed with terminal cancer the month the book came out, then had my first serious MS flare, then the testing and recovery for three months after the diagnosis, well, I don't think I did too badly. I'm going to try to get out and about a little more this summer – I've got a reading planned for Olympia, the Redmond Poets in the Park festival, and a couple of other things. I'm also think about doing a giveaway for an hour Skype consult on the subject of PR for Poets – what do you think? Is that something that would be helpful?
Well, this week has been doctors, dentists, more dentists, and more doctors…so I haven't gotten as much accomplished poetry-wise as I was hoping. What about you? What are you looking forward to as the summer solstice approaches?