Poems in Tinderbox, a New Review of PR for Poets, a new Poetry Star, and Summer Downtime
Tinderbox Poems
Thank you to Tinderbox Poetry Journal, its new issue has two new poems from me, the apocalyptic When It All Falls Apart and Almost April, the story of how I was almost named April and instead was named after Joan of Arc or Jeanne d'Arc. It's a great new grouping of poems, including poems by friends of mine like Jason McCall, Sally Rosen Kindred and Lena Khalaf Tuffaha.
A New Review of PR for Poets at the Handy Uncapped Pen
Thank you to J.R. Jackson for this new review of PR for Poets at the Handy Uncapped Pen, which is a blog with great resources for disabled and neurologically divergent writers.
A New Star of the Literary World
Remember how I posted last time about having poems in the new issue of Prairie Schooner? And I posted a picture of kitten Sylvia holding the issue? Well, guess who was the cover girl of the latest Prairie Schooner e-newsletter? Now someone's poetry-famous!
Here's a hint: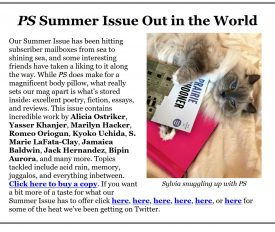 Well, she's going to be impossible to live with, now that she's "poetry-famous." I did tell her "poetry-famous" is not the same as "Instagram-famous" or "real-famous." But cats don't always get those kinds of nuances.
Summer Rain, Summer Virus, Summer Downtime
While a heat wave hits the rest of the US, Seattle's been cold and rainy for a week – I actually went out and snapped these two pictures from my garden in the rain!
Along with the rain, I've caught some nasty upper respiratory virus thing – sore throat, aches, stuffiness – which has left me totally wiped out. Between that and the rain, I've slept way too much (MS, stress, and viruses are a bad match for my immune system – it's like, oh, I give up!) but managed to work a little bit on my latest book manuscript, send out a couple of submissions, read a little poetry (for fun! not just for reviewing!) and dealt with a flurry of "business" e-mails about upcoming readings, publications, etc and rescheduling doctors and dentists that I had put off while my dad was in the hospital. If I still owe you something, please remind me.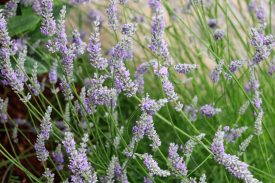 Usually the summertime brings a flurry of activity to my part of the country, people desperate to get outdoors and in the brief season of sun,  and usually also unofficially doesn't start until the day after July 4 – and this kind of weather is why. By next weekend we're supposed to be back in the sunny seventies, and I hope I'm over this cold/MS double-hit by then! I'm not a sun-lover – MS folks are supposed to avoid sun and heat, and I was allergic to the sun since I was a kid (hence my lovely vampire-esque complexion, LOL.) But the long string of grey days gave me time to think about how I'm spending my time, how much time I should give to political activism vs arguing politics on social media, to dealing with insurance/prescription/medical-related nonsense (it could literally take over my entire life if I let it, but it's dangerous to ignore it) and writing new work vs revision vs manuscript shaping vs submitting vs writing. How much time I can afford to spend alone in nature, which seems to me to be restorative both health-wise and spiritually. I'm usually a go-go-go type of girl, but MS has taken a bit of that out of me, and being a bit slower and more deliberate hasn't actually really made my life worse, though I often feel frustrated by not "getting enough done." I have to quit judging my life by the amount I get done, and start appreciating the good things that happen without a deadline, outside of time.