PR for Poets Best PR Books, Talking Apocalypse Poetry, and some Good Poetry News
Welcome to October!
It has officially started to feel like fall here in Seattle, cold enough for a coat at night, rain returning, and I've been craving pumpkin bread, delicata squash and fennel mac and cheese, apple cider. The news was distressing (and enraging) this week, I've decided not to talk about the news at all this week and I'm really trying to avoid social media.
I will post a poem since it's National Poetry Day at the end of the post called "Failure, 2016" that might still be expressing a mood that's appropriate. I will also post a kitten picture. I figure that's helpful.
I did have a couple of pieces of good news about poetry stuff and the PR for Poets book. Are you ready for good news? And please feel free to share your good news. I feel we could all use it. Here are some more nature scenes for you from my neck of the woods, too.
Best of the Net and Pushcart Nominations
Thanks to Contrary Magazine, who nominated my poem "April in Middle Age"  and Rogue Agent who nominated "Self-Portrait as Radioactive Girl" for the Best of the Net. Then yesterday I heard that Rosebud nominated two of the poems that are coming up in their next issue for the Pushcart Prize. So that was a nice bunch of surprises. Thank you to all these lovely journals for nominating me.
PR for Poets was named one of the Best PR Books of the Year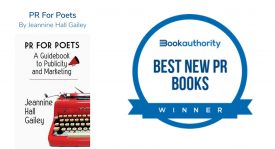 Well, the site Book Authority, which focuses on non-fiction books, listed PR for Poets as one of the best PR books of the year. I even have a badge! You could knock me over with a feather. Books from small presses (like Two Sylvias) don't always get a lot of media recognition, so I was really happy.
Talking Apocalypse Poetry
Stacey Balkun also talked apocalypse poetry up at the University of Arizona Poetry Center called "This is the End: Poetry of the Apocalypse" – a great read if you're interested in apocalypse poetry – and kindly mentions Field Guide to the End of the World.  Thank you to Stacey!
And, it's not really apocalyptic, here's a picture of Sylvia cuddling me in the morning as I recover from my MS stuff to cheer you up. Cats don't solve everything, but they can help. I am hoping to get the okay to try walking around one of the local pumpkin patches from my physical therapist and maybe going and doing some social stuff soon, like attending reads and the re-opening of my fave Seattle gallery, Roq La Rue. So hope to see you around!
National Poetry Day and a Poem
So today is National Poetry Day, so be sure to pick up a book of poetry and spend a few minutes reading. And speaking of endings, I'll end my post with a poem called "Failure, 2016" (first published in Nice Cage) which seems appropriate for the official National Poetry Day and for what's going on in the news: