Six New Poems in the newest issue of Rosebud, and When You're Not the Chosen One
Six Poems in the New Issue of Rosebud
First of all, a big thank you to the editors of Rosebud, who decided to publish six of my poems in the latest issue of their magazine (pictured here with Sylvia and a vase of parrot roses.)
These were some of my favorite poems from my new manuscript, so it meant a lot to me.
Here's one of them, "Summer of Bombs." (I scanned this with my new tiny printer. I'm so excited about it!)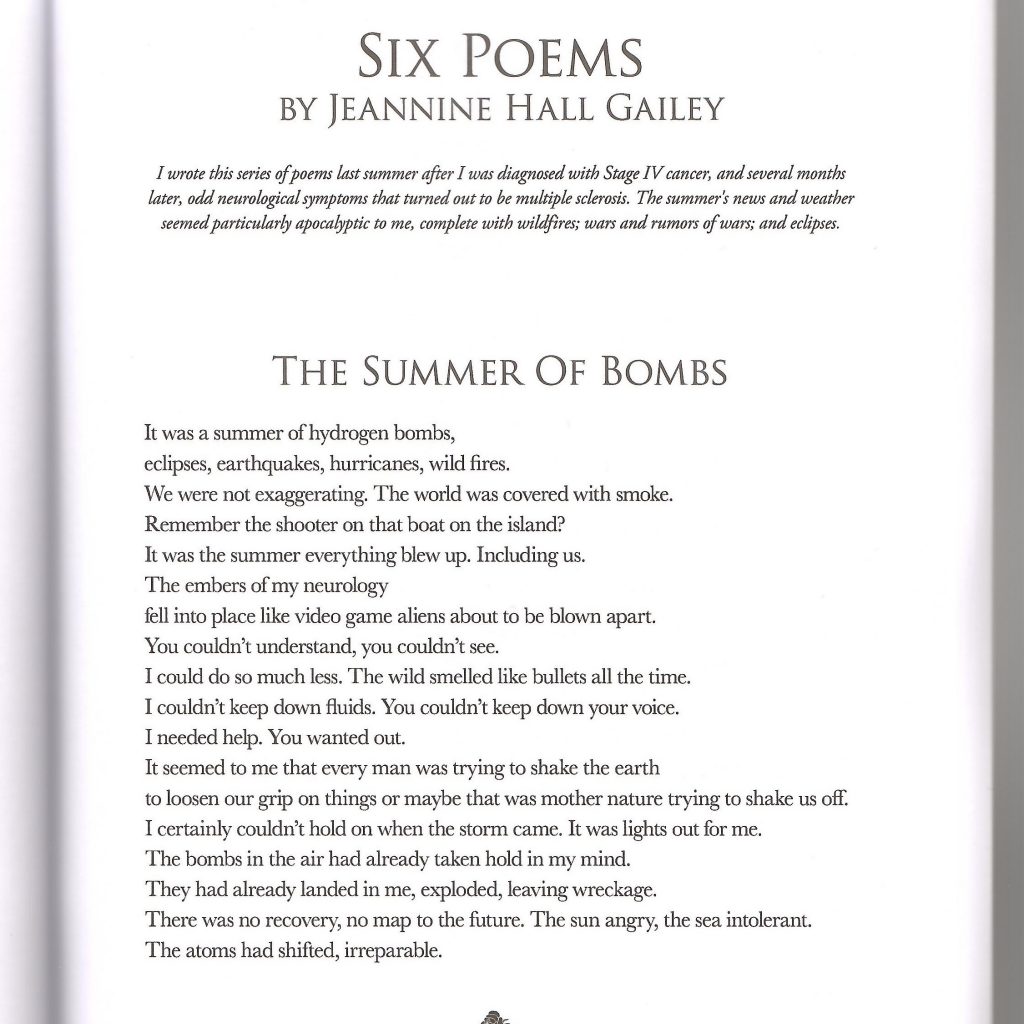 When You're Not the Chosen One
You would think, by my age, as long as I've been submitting poetry (um, more than twenty years) that somehow rejection would stop getting to me. But you know what? It still does. In the last two days, I got one regular rejection, and three – three!!! – book rejections. For two different book manuscripts. It always takes guts to send out your book manuscript that you work and agonize over, and then, you get (mostly) impersonal announcements, plus telling you about who they will be publishing, not you.  Well, that is going to take more than a chocolate chip cookie to get over. You look at the winners. And you think, why is that person chosen? And why not me?? Why am I not the chosen one? (If you want some reassurance, go back to this post and see what Sylvia Plath had to say when she lost the Yale Younger Poets prize to George Starbuck. Let's just say she was not gracious about her loss. It's okay to vent sometimes. If you didn't, you wouldn't be human. The poetry game can be brutal!)
Intellectually, you know they might simply be writing poems more to the taste of a certain press' editorial team, or your book might have been too similar to a book they just take, or they're taking into account (shiver at the thought) your author platform and you don't Twitter enough or have enough Instagram followers or you're not male enough or young enough or cute enough or whatever. You don't become a writer at all if you don't have an ego. Sure, you love your art, blah blah purity (as Sylvia paraphrases), but really, you don't write to not be read, as the older woman writer reminds Glenn Close's character in "The Wife." (See it! Great things to say about the writing product vs the writer him or herself. Also watched the extremely bleak "Can You Every Forgive Me?" which is literally every female writer's neurotic nightmare of failure and poverty in one movie! Although I kept thinking of every other way to make money besides forging famous writer's letters…) On second thought, maybe don't watch either movie the day you get a really big rejection (or three.)
I have been watching the frustration of some much loved writer friends who send out their first manuscripts over and over and get a ton of "finalists" but don't get chosen. At least not yet. It's a shame because these are very strong writers and I want to hug them and tell them to ignore the noise and that they're terrific. If I had my own press I would have already published them. I don't want them to feel that they are "less" as people or writers because today's trends or editors don't validate their work. In the letters of Virginia Woolf I'm reading, she tells another younger writer that she didn't publish a thing (besides reviews) in her thirties. And her forties were when she wrote and published nearly all of the work we consider 'important' today. Sometimes it takes time to come into your own.
I've also watched some friends get wonderful news – my friend Kelli Russell Agodon just won a PSA prize for lyric poetry – and Martha Silano has a new book, Gravity Assist, coming out with a book launch in a few weeks – which, yes, I am actually happy to celebrate. You want your friends to succeed. You cross your fingers for them and cry when they cry and rejoice when they finally get the good news. As a reviewer, I come across a lot of poetry books – some of which absolutely blow me away. They are so good they are humbling.
Tomorrow I'm meeting up for coffee with a new friend who not only does poetry but documentary filmmaking (which seems an even more difficult world than poetry.) I think the best cure for feeling unloved, rejected, is to get back out there, send out your work (which I'm doing right after this post – carrying a poetry manuscript – a paper submission – to the post office) and get together with other creative folks.
This is also a great time to remind you not to feel "less than" when you go to AWP next month. It doesn't matter if you're not "poetry famous" or whatever. The most important thing is to go, try to have fun, talk to a few other people in your line of work that you like about their survival tips, and talk (gulp) to editors and publishers. (There are publishers I decided never to send to because I didn't like the way they acted at AWP, I'll admit – and I'd rather know ahead of time about the type of person that runs a press than get an unhappy surprise later!) Don't worry about your fame level, worry about your fun level. Make plans to meetup with some online friends for the first time in real life. Dawdle at the book fair over a table of beautiful chapbooks or lit mags.  Go to a Portland art gallery or museum or, if the weather is kind, the famous Rose/Japanese garden (or Powell's or VooDoo Doughnuts – you do you!) The point is, use it an empowering exercise rather than a way to make yourself feel small because someone looks at your name tag and turns away – hey, it happens. But discover great books, make new friends, and take advantage of a proudly weird city to do something out of the ordinary that you find fun. Dress up. Be proud that you are out there and trying in a world where most people never even try.