Supermoons and August Flowers, Hospital Trips, Taylor Swift and Flare Corona on Instagram Together, and A Topsy Turvy Week
August Supermoons, Things Go Topsy Turvy
This week started with the first of two August Supermoons, two things that bode ill for me—August and Supermoons. On the nights of supermoons, I have passed out, been diagnosed with MS, been in the hospital…and August is my worst month for MS symptoms. I looked at my Facebook memories over the past ten years for the first week of August, and in seven out of ten I've been in the ER for something. And I'm afraid this week was no different.
But it started out with good things: seeing August flowers, some house projects we finally got around to, and the news that Taylor Swift as Books (the Instagram account) was going to feature Flare, Corona. I started out with good intentions for the August Sealey Challenge.
Blooms of August, Cats in Boxes, and Sealey Challenge Stacks
August can be a beautiful month—my own garden suddenly looks like a real garden—lilacs, sweet peas, dahlias, roses, and hydrangeas all in bloom at once! I've been gathering little bouquets the last few weeks. We also spied a gorgeous dahlia display in Woodinville and water lilies in Kirkland. Our cats enjoyed our home improvement projects—especially the chance to sit in boxes. I got out my stack of poetry books for the Sealey book-a-day challenge (which I may not succeed at, but oh well, intentions!)
But then…I started to feel sick…
Taylor Swift as Books and Hospital Trips
The good news for this week was a new kind of thing for me—Instagram book fame, LOL! The Instagram account Taylor Swift as Books—which pairs book covers with Taylor Swift looks and funny hashtags—put my book, Flare, Corona, up on Thursday!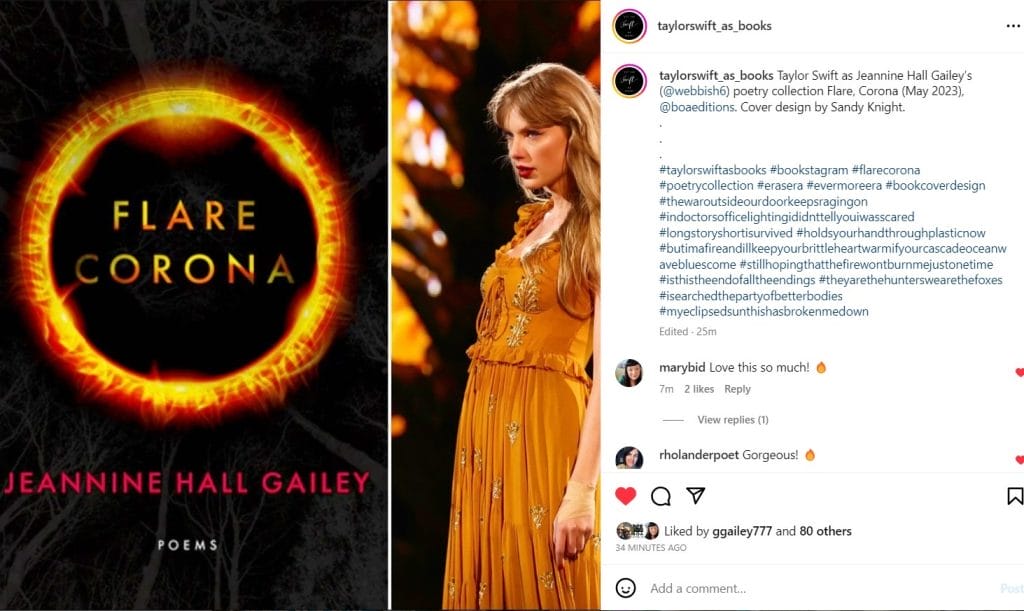 But before I had time to celebrate, something was going very wrong with me, and I ended up in the hospital with a pretty bad infection. I'm back at home now, on heavy antibiotics, but several days were just a blur. I did have two doctors get ahold of me on the weekend (!!) to make sure I didn't die, which was nice. I have an immune deficiency, and sometimes infections hit me harder than they should, and are harder to shake, and that was the case this week. But at least I got a nice pint of saline, some Zofran, blood work and antibiotics—and the female ER doc also had MS, which I thought was amazing (I rarely meet doctors with MS, even as an MS patient). Hopefully, I'll be on the mend soon—wish me luck!