Three Poems in Laurel Review, Birthday Visit to Open Books, Last April Flowers, and Welcome to May
Welcome to May! Birthdays and Magic…
It's a two blog-post week! Well, this week we said goodbye to National Poetry Month and welcomed (a hopefully warmer, sunnier) May.  It was a Black/Lilith Moon last night (very witchy,) a partial solar eclipse for my birthday, and we're supposed to have a meteor shower this upcoming week. We also celebrated my 49th (!) birthday, and this weekend we had our share of fun and stress – from a dental emergency (going in tomorrow, thanks) and a beloved 20-year immunologist retiring, to an overnight trip to local hotel Willows Lodge and a trip to the new location of Open Books, the all-poetry bookstore. After a month that felt like it was full of mostly rejections, a bouquet of poems appeared on my birthday week – including three in the Laurel Review.
Poems in the Laurel Review
I'm so happy to have three poems in The Laurel Review, which is full of wonderful work, including poems by Martha Silano and Mary Biddinger (see my review of her latest book in the last post). So check out the whole issue.
Here's a sneak peek at one of the poems, "Hello I Am the Four Horsemen:"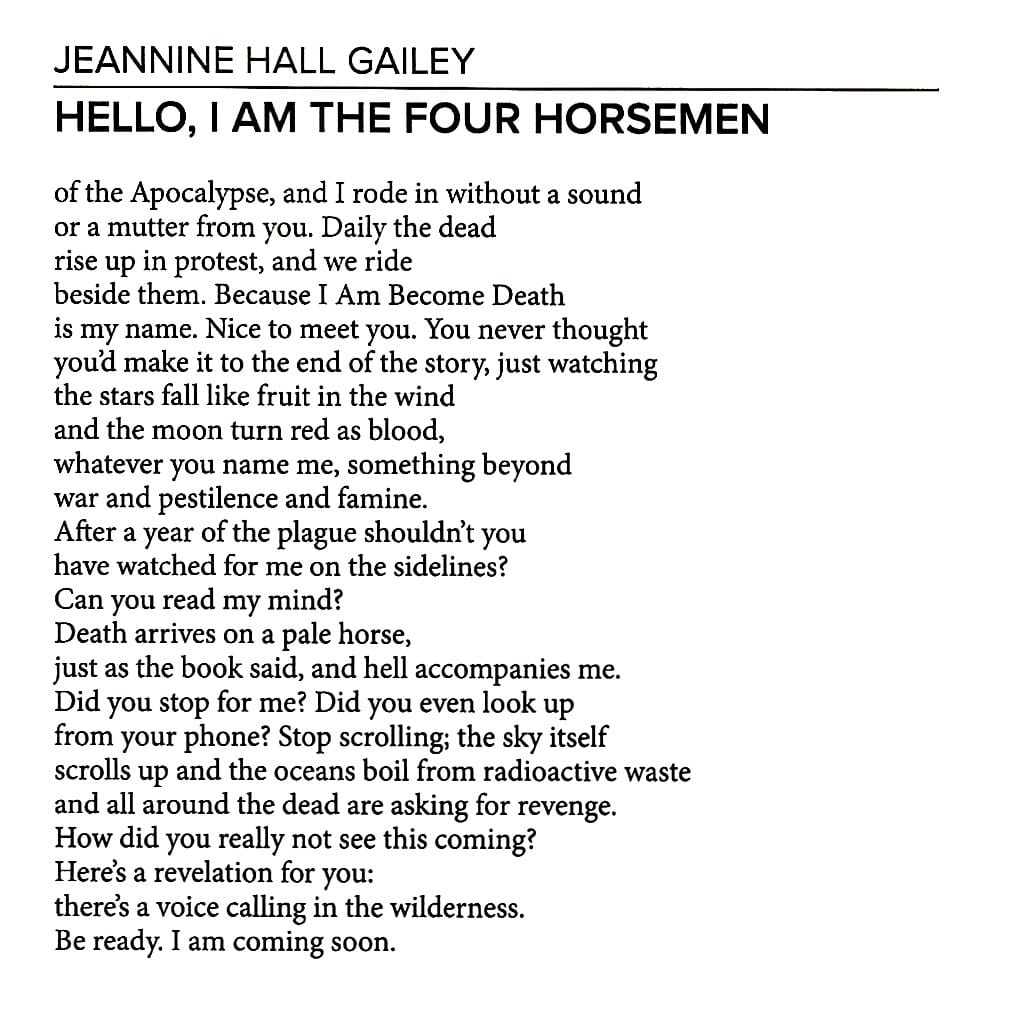 Birthday Celebration: Willows Lodge, Gardens, and Visit to Open Books
Since it's still pandemic-ish, no birthday party this year, but Glenn organized a surprise overnight trip to Willows Lodge, and we also strolled around Woodinville's beautiful gardens in blooms. See? There's not just wine, there are beautiful gardens connected to a lot of those wineries. I usually have black forest cake (gluten free, but always my favorite) for my birthday, but Glenn made black forest cheesecake instead – and it was amazing. Where he gets fresh cherries this time of year – it's magic!
This was also the day I found out my 20-year-immunologist – whose care has probably saved my life countless times when I was having unexplained anaphylaxis – is retiring. I also had a minor dental emergency (helped by my kind dentist giving me a call and antibiotics – I'm seeing him tomorrow!) And I'm prepping for a thyroid ultrasound to check out something there. So a little stress along with the fun. Isn't that always the way.
Open Books Birthday
It's a tradition for me to visit Open Books on my birthday, and I was able to celebrate this tradition again this year. It was wonderful to say hi in person and browse through a ton of new poetry books. It has a very different feel than the Wallingford location but it was a separate location for classes and has a very old-Seattle feel. I got a first edition of Carolyn Kizer's Knock Upon Silence and new books by Victoria Chang, Rae Armentrout and Daisy Fried as well as a few poets as yet unknown to me, as well as an Open Books Tote bag (so cute! and remember AWP Seattle is coming up soon!)
So poetry, flowers, and black forest cheesecake: a good birthday, despite the medical and dental stressors. I am wishing you a wonderful – and hopefully, warm and sunny – May!