What a Week! Flare, Corona Makes Ms. Magazine's Best Poetry of the Year List, A New Poem in Sixth Finch, Reports from a Redmond Reading and Speculative Lecture for Writer's Digest, Upcoming 50th Birthday Party
What a Week! From the Hospital to Poetry Readings to Making the List and More!
Well, this was a heck of a week. Besides miserable cold weather all week, it started out with Monday spent in the hospital (blood work, MRI, fluids) and ended with three straight days of cortisol-packed poetry action – a reading on Thursday (plus some good news for my new book,) picking up my parents from the airport on Friday, and a lecture for a Writer's Digest virtual conference Saturday afternoon. One of my favorite poems just went up at Sixth Finch today. And now, I will collapse! Just kidding. But I may spend the day in bed reading!
Flare, Corona Makes Ms. Magazine's best Poetry of the Last Year!
Wow, what a surprise to come home from Thursday night's rainstorm reading to see this! Ms. Magazine had a list of the best poetry books of the last year, and Flare, Corona was on it! Check out the list here! I am so grateful to Ms. Magazine and Karla J. Strand for choosing my book and putting it in such great company. A couple of BOA authors (including Jessica Stark!) on the list too, yay.
It's a first for me to get this kind of "major media" attention, so I'm extra grateful. I do not take anything like this for granted. I hope the list is a fun read – I know I'm going to grab a couple of books on the list I hadn't heard of.
A New Poem in Sixth Finch
So proud to have a new poem in the terrific new issue of Sixth Finch, "Cassandra Considers a New Job in a Plague Year." It's a little bit autobiographical. Cassandra of myth, of course, was cursed with the ability to see the future but have no one believe her.
There's a sneek peek below but read the whole issue – and check out the art as well.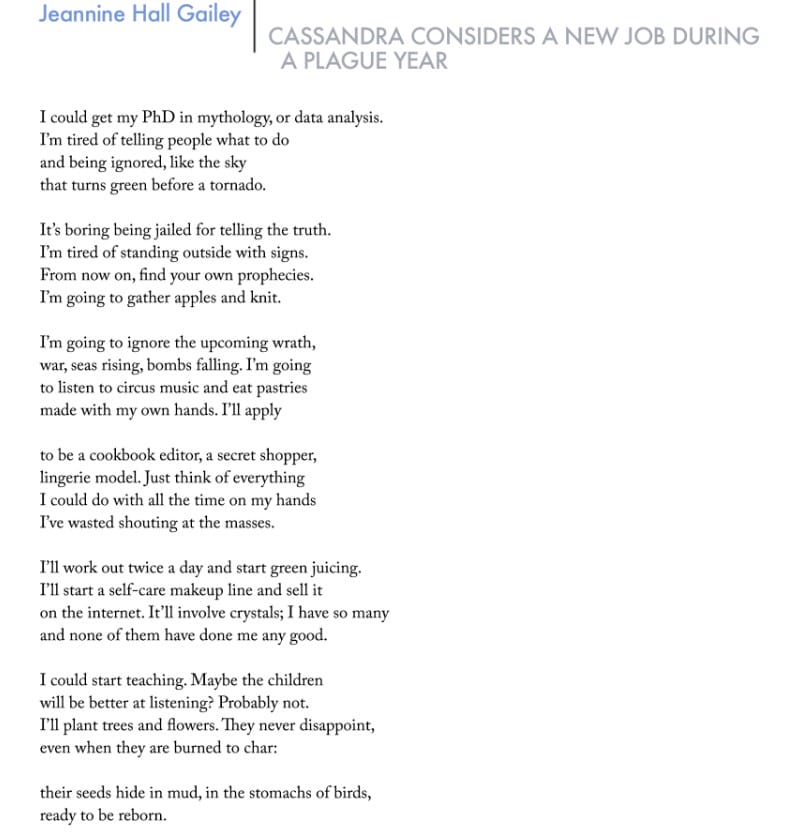 Reports from a Redmond Reading with Kelli Russell Agodon and a Speculative Poetry Presentation at Writer's Digest Virtual Poetry Conference
Thursday night was Kelli Russell Agodon and my reading at Soul Food Coffee House, a series that's been going on in Redmond for a shocking 17 years! (I was one of the first readers 17 years ago!) It was a squalling rainstorm outside. Kelli and I had dinner together beforehand, Kelli got a chance to cuddle with kitten Charlotte, we got to catch up, and then it was off to the reading. This was one of my first in-person readings in a long time, besides being a chance to try out poems from Flare, Corona, which I haven't read from except really briefly at AWP. The open mike part ran long, so we had to book it to get Kelli to her ferry on time in the pouring rain. It was really good to do the thing called "human contact" again, despite my continued nervousness about covid. And Kelli and I always have a good time hanging out.
The next day my parents flew in from Ohio, so Glenn and I drove out to the airport to get them, then took them to the ferry to they could visit with my little brother and his wife who live over the water for a few days. It was really good to see them in person – it had been six years! And then woke up early Saturday to prep for my Speculative Poetry lecture for Writer's Digest Virtual Poetry Writing Conference. I am still learning how to do a PowerPoint on a shared screen during Zoom, but it went really well, a pretty full class, and lots of good questions afterwards.
After Saturday's lecture, though, my MS brain and body decided it had had enough stress – even though it was mostly good stress, minus the hospital trip – so I crashed early with HGTV on in the background and slept through a whole six hours – a bit of an accomplishment for a poor sleeper like myself. This morning I had breakfast in bed and I'm catching up on reading.
Woodinville 50th Birthday Party Plus New Poetry Book Celebration
And guess what? The parents will come to our house in a few days, and then we'll have our Woodinville Birthday Party/Book Launch at J. Bookwalter's Winery with cupcakes, a little poetry reading, and a LOT of wine and celebrating on April 30. I'm turning 50 and having my book come out the same week, just a few days after a solar eclipse, which seems appropriate given the book's cover. Kelli will also be a guest reader and family and friends are welcome, so if you want to come celebrate with us, here's the info in a graphic Glenn made. Wine, poetry, and cupcakes! What could be better than that?