When to Be Nice – the Writer-Girl-Type Edition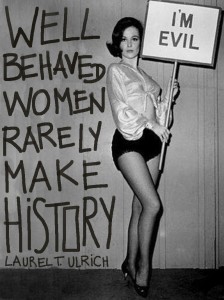 You wouldn't think a writer who wrote a book called "Becoming the Villainess" might struggle as much as I do with what I call "nice girl syndrome." But I do. I don't like to bother people or let them down, so at doctor's offices, I don't insist on one kind of treatment because I don't want to assert myself, or in the writing world, I have trouble turning down offers to do things for others. (As you can imagine, this makes jobs like teaching – no, I can't write a 23rd letter of recommendation for you – or a local city's Poet Laureate job – sure, I can show up at blank event with five minutes notice and do anything you want – a little bit of a struggle, because without clearly defined boundaries – yes, I will do this, but no, I can't do that – these jobs will take up your entire life.)
I started thinking about the problem of the "nice girl syndrome" a bit after this discussion, which includes a bit of argument – not from me – about whether or not it's worthwhile for a writer/editor to prioritize being, in Mary Biddinger's words, "kind." (See interesting discussion between four writers here: http://www.writersdigest.com/whats-new/four-poets-read-poems-and-talk-poetry) Kindness comes up somewhere in the middle and sparks a debate. I am looking on silently in this debate, because honestly, I am wrestling with own feelings of how to balance "nice" with "self-preservation/success." I actually think Mary does a model job with this balance – gracious but committed to her own work, too. So when does a writer put her own work second, to her teaching, to her spouse's/children's/family's needs, to her four adopted rescue dogs, to the needs of everyone but herself?
I think kindness enormously expands our writing world when done in the right way – a thank you note to a writer who moved you or an editor who was especially helpful, blurbing or reviewing other writers, inviting someone you admire to come do a reading with you or teach a class or whatever – and that it is part of our writing community's well-being that hangs in the balance between doing what's kind and doing what's in our own self-interest. Remember when we were writers just starting out, when a kind word or act made all the difference to us, and we should strive to include and encourage others in the same way. There's an old saying to "whom much has been given, much will be expected" – so the more gifts we receive from the universe, the more we should give back.
On the other hand, there's a terminal kind of niceness – the "can't say no" kind – that will get in the way of your writing and publishing. One thing I've noted while reading these multiple biographies and memoirs of famous dead successful writers – besides the lack of happy endings – is that they were none of them known for being particularly nice. Egotistical to the point of delusion, sometimes – always aiming high and believing their own work had merit and deserved recognition – the women writers whose names we now know we know partially because they didn't put up with a lot of crap, they took risks, they did what they pleased most of the time. They made a scene, they switched publishers because they weren't happy with one editor or publisher's treatment of them, they withdrew stories and revised til the last minute and went with the best-paying and most prestigious offers every time. Especially in the cases of Sylvia Plath and Flannery O'Connor, this may have been because, for two different reasons, they both knew they had limited time.
Those of you who read this blog on a regular basis know I struggle with various health stuff, that usually rears its ugly head at inconvenient times. At those times, I am forced to acknowledge I cannot, actually, do it all – and maybe no one can. (To illustrate – I was in the hospital on oxygen with two IVs in my arms with double pneumonia when I was writing to my students about being a day late to turn in grades…and I still felt so bad about it I actually finished grading in the hospital bed.) So if I'm going to stick to priorities, what are mine? What comes first? When do I need to face conflict, assert myself, say no? When do I need to say "It's time to write" instead of one of the six-thousand other things I could be doing? I know I don't like to let anyone down. It literally hurts me physically sometimes – stomachaches, migraines – to do it. But if I don't, what opportunities drop away – the chance to write, to submit, to offer up an idea or start a memoir or take a risk – that might make the difference between a writer who makes history, and a writer who does not?