Zoo Visit, Poetry Readings, PR for Poets in the News and Submission Fatigue
A Chill in Seattle and a Weekend of Poetry and Zoos
Brrr! Writing from a very chilly morning here in the suburbs of Seattle. This weekend was full of excitement. I had been a little under-the-weather since I had three fillings earlier in the week, so by Saturday I was sick of being house-bound and it was sunny though not warm so we ventured out to the zoo, mostly to see the little red panda cubs again. Then Sunday was the book launch for Martha Silano's Gravity Assist, a fascinating collection that examines the space race as metaphors for family relationships.
The Launch of Gravity Assist with Guest Readers at Open Books
A great pleasure to see the introducing readers, Kelli Russell Agodon, Molly Tennenbaum, and Rick Barot, as well as Martha's reading from Gravity Assist (check out one of the poems from the book, "Instead of a Father") and to see a lot of friends from the Seattle writer community come out to support each other. Glenn also snapped a shot of PR for Poets on Open Books' shelf!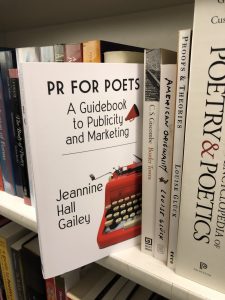 I was a little nervous (I don't do great in crowds with the MS thing), but it increased my feeling that I'll probably do fine at AWP – except for remembering anyone's name or face in a crowd (still troublesome for some reason, so if you see me at AWP, be kind and remembering my brain doesn't function totally 100 percent in overload, when you say hi, remind me of your name, the name of the person next to you, and probably my own). I was especially happy I went since a friend had a small emergency during the reading that I was able to help out with. You never know when you might be useful!
Woodland Park Zoo – and Animal Eye Contact
It was freezing cold but always a pleasure to see extremely rare and endangered cute red panda cubs in action. We also had a pair of wild, non-zoo-related bald eagles sweep low over our heads – turned out they have nested in the Northwest wing of the zoo! The white wolves were sleepy, but a lot of animals – jaguar, red pandas, meerkats, snow leopards – seemed to make eye contact with me! Maybe it was something shiny or they liked my sunglasses, but it meant I got some good snaps of the animals!
Here are a few more: a blue heron that invaded the penguin habitat, a flamingo, a snow leopard hunting the peacock in the previous picture from the back of her enclosure:
PR for Poets in the News!
Thank you to Cati Porter who wrote about PR for Poets for her local paper The Press Enterprise about how to prepare to market your upcoming book in this article. If you haven't gotten your copy yet, order it now or pick up a copy at Portland's AWP at the Two Sylvias table!
Submission Fatigue
I know submitting poetry is part of the job, but I've got serious submission fatigue. It's not that I've gotten more rejections in 2019 than unusual, but it's felt like more. I've sat down to submit poems a couple of times this week, and ended up…not. I've got a brand newish manuscript to submit, but I haven't sent it. Is this part self-doubt, part-self-protection?
Some times I think I get too discouraged with the poetry world in general. Maybe it's my reading material – started reading How to Suppress Women's Writing by Joanna Russ and of course Sylvia Plath's Letters Volume II. Possibly not the most cheerful reading for a woman writer. I feel like I've been fighting off a bug, which has increased my MS symptoms, especially the dreaded nausea. Do these things contribute? They might. It takes energy to send out work these days – submission windows that close in a single day (Hello, Coffee House Books!) and submission windows that shift year-to-year, month-to-month – it's tough to keep track on your Excel spreadsheet, then tracking down the current editors, reading a current issue (or at least a few poems from one, if available,) then going through your own Excel spreadsheet to see what's available and what seems like a good fit. I'm not really a submit-at-random girl. So, yes, maybe a lack of forward motion, a lack of belief in the system in general, the lack of belief that the world needs more of my poetry. (Eek! A peek into the abyss!) Usually I am a pick-yourself-up-and-get-on-with-it person, but lately, when I pick up my spreadsheet and look at sending out, I'm just…Hmm.
Do you get submission fatigue? What do you do to get over it? How do you renew your belief in a system that maybe isn't particularly for you – your gender, whatever – or the type of work you produce (weird, offbeat)?